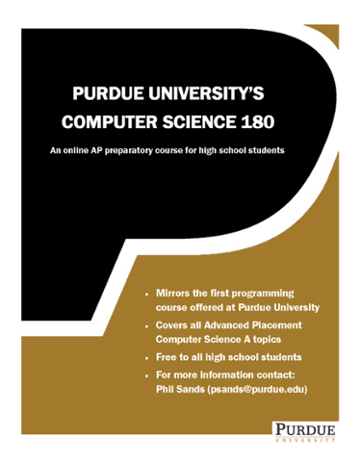 Purdue University is proud to offer to all interested high school students an online version of our introductory object-oriented programming course. The class will consist of content from our first semester programming course for computer science majors, CS 180, as well as supplemental material designed to help students prepare to take the AP Computer Science A exam. This is a Java programming course, with a focus on object-oriented programming and concurrency.
Students that sign up for the course will gain access to:
Instructional videos on all topics in Purdue's CS 180 course, taught by Professor Debbie Peroulli and K-12 Outreach Coordinator Phil Sands
Labs, projects and exams designed by members of Purdue's CS faculty and teaching assistants
Discussion forum for instructional support via the Piazza platform, monitored by course staff daily
Virtual office hours with course facilitator, Phil Sands, and course teaching assistants, offered via Google Hangouts
The course is free to approved enrollees, and will begin on September 8th, 2015. This course will not earn students any college credit, but is meant to provide preparation for students as they prepare for a university CS curriculum.
No prior experience with programming is expected, but it is suggested that students have completed a mathematics course equivalent to Algebra II before taking this course.